Beijing has been the capital of China for over 800 years dating back from Yuan Dynasty, and home to 34 emperors who ruled China's vast territory. Its unique history, culture and characteristics bequeathed many famous historic sites of great aesthetic and cultural value. A walk through the city reveals dozens of places worth more than just one visit: The Great Wall, The Forbidden City, Temple of Heaven, The Summer Palace, Yonghegong Lamasery, Daguanyuan, The Ruins of Yuanmingyuan, Lugouqiao, The Bell Tower and The Drum Tower, many of which are recognized as World Cultural/Heritage Sites by the United Nation.
Today, Beijing remains the center of national politics, economics, culture and tourism. While preserving its historical and cultural heritage, the city has been transforming itself into a world-class city. With connections to over 60 cities worldwide and advanced transportation network to link up different corners of its nation, the city is the host of 2008 Olympic Games, demonstrating its vigor and youthfulness to the world. IROS 2006 offers its participants a great opportunity to see and feel the city where one should never miss its unique and harmonious mixture of ancient civilization and modern accomplishments while enjoying high quality conference program.
| | | |
| --- | --- | --- |
| | BEIJING - SEE IT, FEEL IT! | |
| | | |
| | Use Macromedia Flash Player to play it. | |
| | | |
>> Beijing International Convention Center
Beijing International Convention Center (BICC) is the second largest convention facility in Beijing, specializing in hosting national and international conferences, exhibitions and other large events. It has simultaneous interpretation systems, television projection receivers, film and slide projectors, stereophonic sound systems and stage lighting.

It comprises more than 60 conference halls and meeting rooms as well as dozens of offices to serve a wide variety of purposes: plenary sessions, concurrent sessions, round-table talks, and small-group meetings.

Its indoor exhibition halls and other exhibition space can accommodate 300 international standard exhibition booths, and will be used for poster sessions and exhibition of books. Its spacious registration hall, public and VIP lounges and bar located on each floor are all designed to ensure an enjoyable stay for congress participants.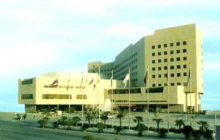 BICC is complemented by a wide range of service facilities within a walking distance. A shopping center, a post office, a recreational club with bowling, swimming pool and billiards, and quite a few restaurants and fast-food outlets and stores are just close by.
The Conference Banquet of the IROS 2006 will be held at the Main Auditorium of the Great Hall of the People, which is the home of China's governing body, People's Congress. Located on Tiananmen Square, it is a venue for large-scale meetings, conventions and banquets when the People's Congress is not in session. The Main Auditorium can seat an audience of 10000.
Shuttle buses will be served from the Beijing International Convention Center to the Great Hall of the People on October 12 for the Conference Banquet. Detailed schedule can be checked at the conference registration desk.
.